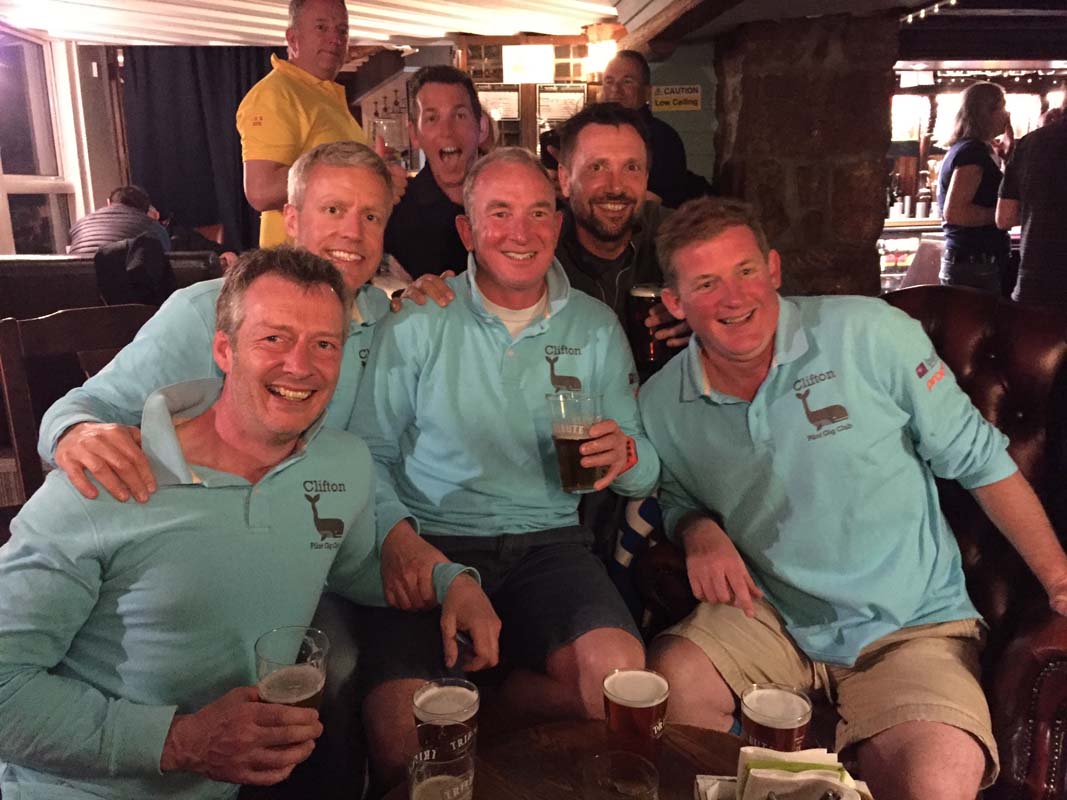 08 Aug

Brixham Regatta

Well this was a different way to do a regatta. Clifton were not able to raise a full ladies crew due to holidays and so the men only went to Brixham with our fabulous Cox Debs.  The men's racing were the last events of the day and so we had three races in four races back to back.  Men's A, then we waited on the water for the Ladies vets to race which was followed by Men's vets and finally the Mixed race.

I still don't know how we managed to row full on races so close together, but Clifton men dug in and boy did they row well.

First up Men's A. Debs placed us at the outside edge of the start line and we went off like a bullet once again.  Looking across the field we were placed first for ages and as we approached the first turn the field closed in. To avoid clashing Debs had us hold off a little and turned us around the first Mark in 4th place.  Coming out of this turn the sea changed completely.  It was quite choppy and this didn't help is at all.  Our stroke rate was high and we just couldn't maintain this to the next Mark.  We dropped back in the field and rounded the next turn with only one boat (of twelve) behind us.  We had probably gone off too fast and fatigue kicked in with the choppy water and whilst never giving up we finished the race in last position.  However, this was a full in men's A race and we did ourselves proud once again.

How then do we row again? Every man was shattered.  Thankfully there was a ladies vets race to follow with allowed us to bob about on the water for 15 minutes whilst they competed.  We had recovered and the exact same crew were to row again in the Men's vets race.

With trepidation we flew off the start line once again. Had we not learned anything?  Don't go off too fast.  Anyway we got to the first Mark in the middle of the field.  Boats all around us and one in particular uncomfortably close coming out of the first turn.  Oars clashed but we didn't come together.  The crew pressed on through the chop pushed ever harder by our Cox Debs and finished with with a few boats around us.  Two races down and one last race to go.

With a quick visit to shore, three men stayed in the boat, Rob took up the coxes seat, Debs took up an oar and two girls from Brixham stepped in to row the mixed race with us. One of the Brixham girls rowed stroke side but had never stroked a boat before!  We placed her straight into the stroke seat.  This time we had to follow the Brixham start routine.  We were still very fast off the line and were probably middle field by the first Mark.  A great turn from Rob and we took a length out of the boat just behind us.  This set the scene for the remainder of the race.  This same boat came back at us three times and every time we rallied and pushed them away.  What a race; quality rowing under severe pressure.  Our Cox pressing the right buttons, encouraging our new stroke rower and we finally finished seventh out of twelve boats.  Exhausted and exhilarated, there was one final row around to get the lovely Avona around the Brixham breakwater and out onto the trailer.  The nearest pub beckoned and very well earned refreshments taken on!  This continued until 2am when finally the Clifton brave hearts retired to bed.  Next week we have Lyme Regis so back to training to work on improving again.  Each week there is visible improvement.  Loving this.