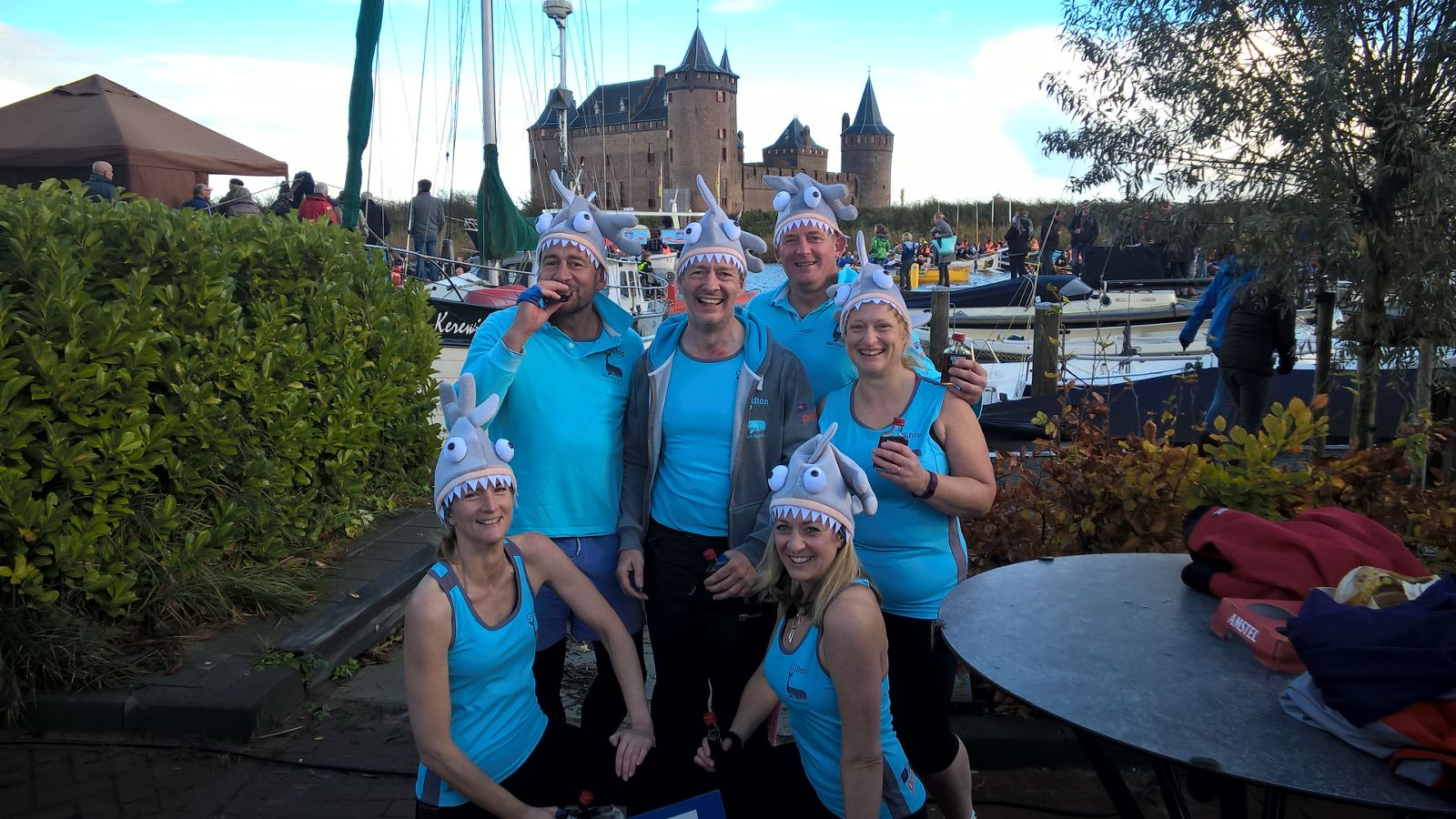 09 Nov

Muiden Pampas Muiden

The final weekend before our inaugural annual dinner.  Speeches drafted, awards consideration underway and now there's so much more to throw into the melting pot.  The antics of five international rowing Clifton members may have changed it all.

Nina, Terrey, Mark, Bryan and Steve travelled to Muiden, Holland for the 25th MPM event.

Bryan took the option to fly and the remainder were ably driven there by Mark.  Of course Bryan was first to arrive and whilst not knowing the village at all he found a fabulous place to rest and take on refreshments in the Ome Ko bar.  There he met the Mevagissy crew who were also quite good at refreshing themselves.  I am still not party to Bryan's conversation with the Meva boys so can't explain why the first comment to come from them was "Which one's Terrey?  Are you married!"  Bryan……..you got away with that lightly.  It did however set the scene for the whole weekend.  What a laugh we had!

The racing consists of three, just less than 5 miles races out of the canal at Muiden, around the Pampas island and back into the canal.  Each race is about 45 minutes of hard rowing.  There are two races on the Saturday and one on Sunday. There are all sorts of sloops, lifeboats, whalers and gigs taking part.  Each race starts three boats at a time with the slower boats first and the faster gigs at the end with 30 second intervals between starts.

We were supported by Hazel from Charlestown on the rowing front who sat in seat2 for all three races.  We were loaned Millers Daughter by Caradon who supplied a Cox for each race, Ali, Alan and Nick.  Thank you so much to you all for allowing us to take part in this amazing event.

Mark sat in seat1 behind Hazel.  So sorry Hazel; there was nothing that could have prepared you for that!  Bryan seat3, Steve seat4, Terrey seat5 and Nina seat6.

I have heard that some crews don't have a drink for months before a race.  I have even heard of others who refuse a drink the night before and go to bed early.  However, I have never witnessed this myself and can confirm that Clifton got stuck in to the race tent party right from the start.  There were a couple of rebels who disappeared just after midnight on Saturday but they were appropriately dealt with in Court the following day.

Our mixed crew set off for the first race.  There was a Dutch crew on the port side and Teignmouth on the starboard side.  Despite nailing our start the Dutch flew away and we never saw them again.  They were fabulous.  We kept with Teignmouth in Morgan all the way to Pampas Island.  Ali, our Cox asked for big rowing and we managed to pull alongside around the Island.  Coming out of the turn saw Morgan just half a length up which was the inside line advantage.  The race was really on now.  We consistent overtook many sloops on the row back to Muiden and then we took gigs too.  Morgan remained just ahead of us and we didn't quite manage to catch her.  The battle was epic and we rowed the course in 44minutes.  There were casualties though.  Our hands were shredded, the curse of giggers bum returned, Mark had to be sick half way round, Steve caught a crab.  Our time was good enough to finish 10th out of 18 ladies crews and 14th out of 21 men's crews.  This event is judged on the cumulative time of all three races.  So we needed two more great races.

Then a break, hand repairs, new gloves bought and ready in the afternoon for the second race.  By this time the Friday night celebrations were starting to show but nonetheless we lined up at the start again.  Once again the Dutch on our port and Morgan on our starboard.  Our new Caradon Cox Alan took control.  Hazel came back for more despite Marks best effort in the first race of traumatising her with what can only be described as the sound of dying whilst removing everything from his stomach!  Hooter sounds and we're off again.  This time a crab taken on by Mark.  A good start though but the strong Morgan crew took half a length from us.  The Dutch seemed to get beamed away some how.  Just never saw them.  The wind got up this time and a chop came over the water.  We were slightly jaded for this row and despite overtaking many sloops and gigs we finished in 48minutes this time.  We did put in an amazing sprint at the finish which took us past 4 boats just in the canal section alone.  Of course Mark did his death impersonation once again.  Poor Hazel!  Quote of the day from our Cox Alan, addressing Mark in mid illness: "Get it out, get it in!"

What a day's racing though.  Quite exhilarating.  Great work together.  A fabulous team effort. Superb team spirit.

Then the evening beckoned.  We donned our special Muiden tour shirts and set out for the evening.  Secured the last table at an amazing restaurant, wine, beer in the Mole, dancing in the race tent.  An epic evening.  However there were two early departures to bed.  Nina and Terrey sloped off at midnight not to be seen until the morning.  A confession arrived by text.  We knew how to deal with this.  We would have to appoint a judge, prosecution and defence and hold Court the next day.  They were guilty of course but it's only fair to go through the proper channels.

Then Sunday morning, we had our final race at 10:30 am.  We rose to the occasion to row once more.  We donned our shark hats and headed off to the start line with Nick coxing us.  For the third time the Dutch would be on our port and Teignmouth on the starboard.  Would Mark make a whole race without choking himself to death?  This being the last race brought out the whole crews fighting spirit.  We gave everything, Nick pushed us hard,  and we finished in 46mins.  Not the fastest we had rowed but after that epic night it was amazing.  Once again the sprint finish was superb.  Nina took the rate up and the whole crew laid on the power.  I don't know where that came from but we were flying past boats in the last 300 metres.

Overall with those times we finished 10th in the ladies race, 21st in the men's but most importantly, being the only mixed crew we finished first in that category.  We were self appointed mixed crew champions of Europe.  A fabulous result!

After the administration of putting Millers Daughter away we freshened up on our amazing barge, Liberte, which we were privileged to share with the lovely people from Charlestown.  Court was convened and after little defence at all Nina and Terrey were found guilty of not only the main offence of 'leaving a perfectly good party' but also of 'not attending Court last night when summoned from their beds'.    A sentence of Community Service saw them getting all drinks that evening.  A spell in the race tent set us up for the evening.  This tested Nina and Terrey but they did settle into their sentence with surprising aplomb.  Nick our Caradon Cox wore his sharks hat all evening and photographic evidence will bear this out.  Off to town for food in the Ome Ko bar with Charlestown and onto The Mole together.  What a night in The Mole.  Charlestown started us all off on shots of Schipper Bitter, an alcoholic cough medicine, to celebrate their winning the Plastic Gig category.  Serious singing from Mevagissey.  Mark took a turn only to be chastised by an elder statesman for the lyrics.  The evening developed into laugh after laugh.  Tour shirts were exchanged between Charlestown and Clifton.  Eventually we retired back to Liberte where for some reason Charlestown chose champagne and port over a nice cup of tea.

Bryan was up at silly o'clock to get his flight and the rest of us had to be off the barge by 10am to avoid taking the trip to the next town.

An amazing weekend.  Serious rowing with amazing friends.  New friends made across the gigging and sloop community.  This was definitely one of the best events of the year.  With such amazing antics how then do we address the club dinner awards.  We will know within a week…….