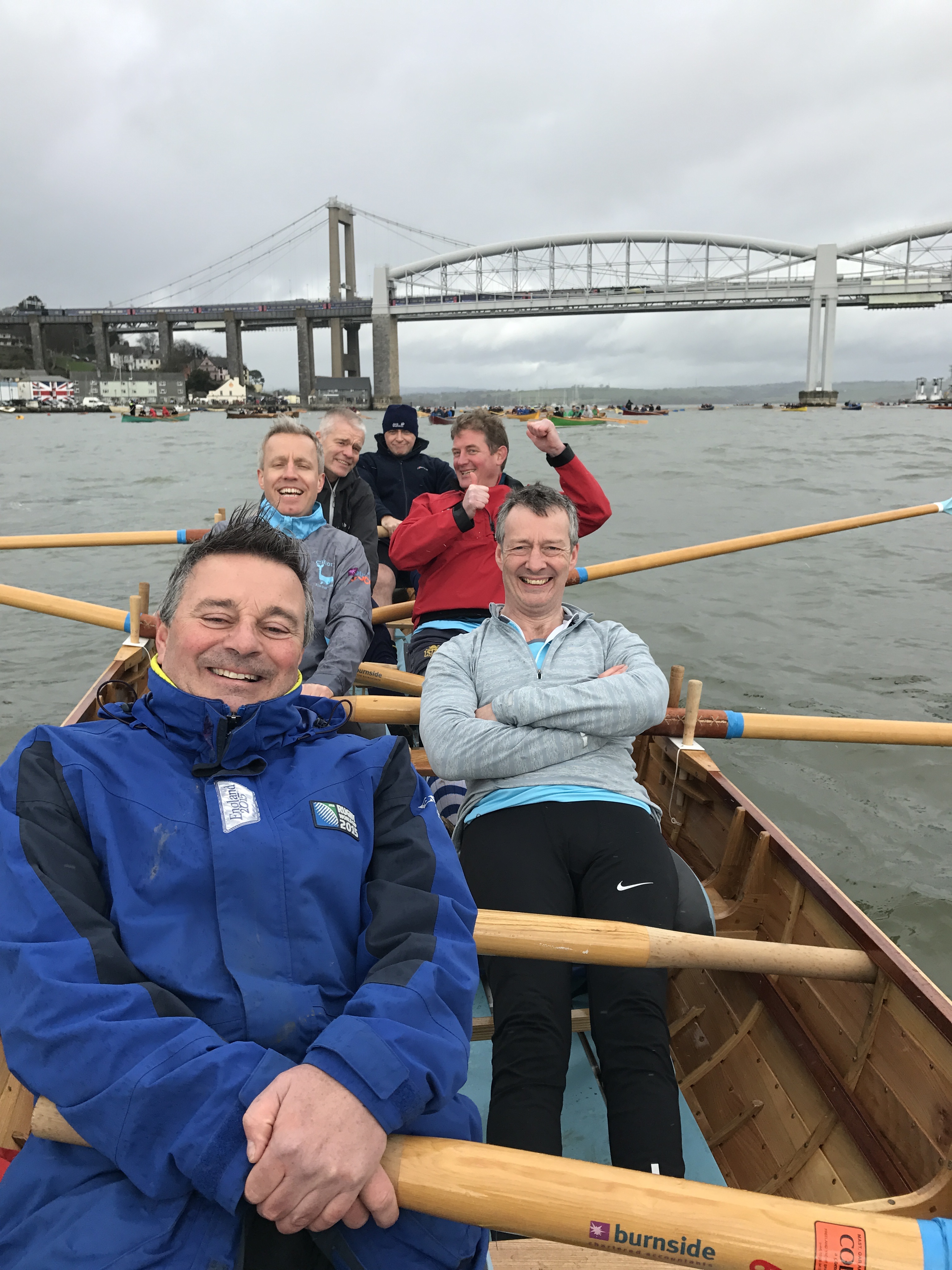 27 Mar

Three Rivers Race, Saltash

This is the first race of the season.  It's a 6mile figures of eight course starting under the Tamar bridge and finishing at the same place.  I can't remember doing this race without there being a howling gale or racing tide or more often that not, both at the same time.  It's full on racing which takes about an hour.   Not necessarily the best place to debut for a first gig race.  More of that later!

We couldn't muster a girls team for this event primarily due to injury, brought on by training a little too hard.  So we travelled down with only one boys crew.  We had Jerry in stroke, Steve behind in 5, Stuart in the powerhouse seat 4, Mark in the powerhouse 3, Sean in 2 and Andy in 1 in the bow.  This was the first ever competitive race for Sean and Andy.  Andy, otherwise known as Chairman Mao (long story) had been rowing for no longer than two months.  This was a real baptism of fire for our debutants.  We were expertly guided by our coxswain Debs.

I guess due to tide times this event starts extremely early.  It's an 8am meet at Saltash to get the boats launched which meant the best part of a 5am start from Bristol.  Chairman Mao (CM) never let us forget his 5am start.  It was slightly unfortunate that the girls raced first and therefore we didn't actually need to get Avona in the water until 10am.  CM was most put out!!

Eventually it was our turn to take to the water.  The weather was blustery and the sun came out between showers.  Some banter with Bridport before the start line witnessed our No1 compared to a wet bag of sand!  We approach the start line and with 17 gigs spread across the Tamar, space was short.  Deb's expertly manoeuvred us into a great space.  We were asked for some sharp taps up but it seemed we were just not sharp enough.  The starter shouts 'Go' and all hell breaks loose.  We were clattered from the gig on stroke side, heard a crack, oars clashing everywhere….eventually we get away.  The gig on stroke side got away quick and our bow side competition, Lightning was just behind us for the taking.  We got into our stride quickly after the clash and Debs pushed us hard.  Lightning stayed just behind us but alas only for a while.  They overhauled us and we were in open water on our own with a long hard row ahead.  Debs kept us motivated throughout and that was no mean feat.  She even started to entertain us by narrowly missing the biggest yellow buoy we have ever seen and telling us we had 300 yards to go when it was really at least half a mile!  The heat behind us had some quick gigs and with 2 minutes between heats setting off, we found ourselves in a fantastic race for the line with a gig from the heat behind us.  We dug deep and just held them off.  Our debutants were brilliant albeit totally shell shocked.  Lots was learned by all, but what a hard race.  We had rowed for 1hr5mins.  Not a great time but by now the physical hurt was fading and we were reflecting on a fantastic event.

A couple of beers in the local and a further beer in the sailing club saw us outlast the hosts Caradon in their own clubhouse.  What a great day, but boy did that hurt!  Bristol Sprints next….totally the opposite type of event and we need to train for that one.