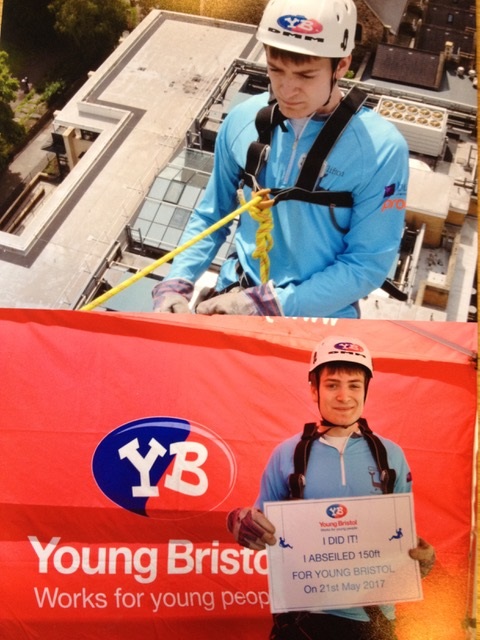 09 Jun

Clifton's Saul Fundraising for Young Bristol

In May, three Clifton Gig Club members took part in a sponsored abseil event to raise funds for the Young Bristol Charity, who kindly allow us to use their pontoon and training boat, 'Lindy'.

Steve, Nina and Saul were the only ones to put their names forward (don't all rush at once, people!)

Donations came in quick and fast for this very worthy cause – and between them the intrepid abseilers raised over £1100. Thank you to all who kindly donated.

On the day itself, as they approached the 150+ft Premier Inn building in the centre of Bristol, it is true to say that some of our adventurers were starting to have second thoughts. Steve, in particular, had gone a peculiar shade of grey that Nina usually sports on the start-line of a gig race!

However, there was no backing out now. Up we went in the lift, and out on to the roof, where we received the barest minimum of instruction. Steve used this moment to avail himself of the toilet facilities (as was only to be expected, having no bailer to hand!).

Nina took one look over the edge, instantly regretted it, and then prepared to descend. It's harder than you might imagine to feed a heavy 150ft rope up through your belay device (and no – that's not a euphemism). She may have descended fairly quickly, but her technique in places was best described as 'River Dance'. One down, two to go.

Saul managed a cool, swift descent – but then he is young and everything's easy when you're 18.

Steve, on the other hand, struggled with his nerves at the top and kept disappearing from view (more toilet breaks?). Eventually, he appeared on the skyline, straddling the ledge like Spiderman – and he too made the descent – with the odd pendulum swing in the high winds.

It was over – they had all made it safely to the ground. Time for a beer, Steve!